Keeping Lincoln warm - Our cold-weather wish list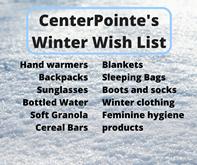 Every year, the biting cold Midwestern air presents a challenge to those with little to no access to shelter. Our Street Outreach team wants to help those in need wherever they're at. To do that, they need your help. Our Street Outreach Wish List has just been updated with new cold-weather donation items.
We're coming up on a time of year where money gets stretched out and schedules get packed. You've got gifts to give, food to buy, and lots of valuable organizations asking for donations as well. We get it.
That's why it warms our hearts when something as simple as a winter coat or a collection of hand warmers is donated to CenterPointe. Everyone should have a coat this winter season. You can help Street Outreach continue helping those in need.
If you have donation items that you'd like to give, please drop them off anytime between 8 a.m. and 4:30 p.m. at 2633 P St. in Lincoln.