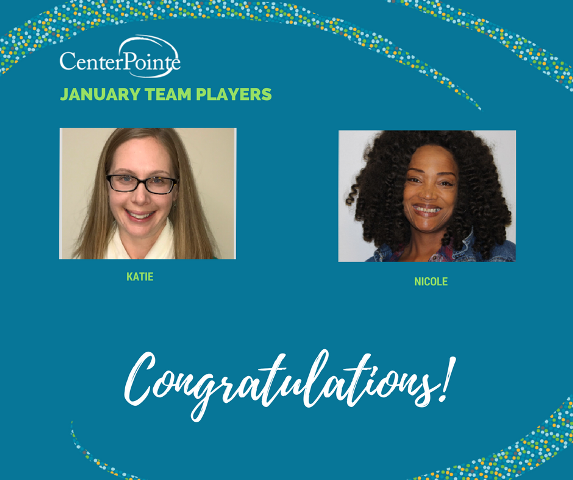 Congratulations to Katie and Nicole for being recognized as Team Players of the Month!
Every month we like to recognize outstanding employees from our Lincoln and Omaha locations. Nominations are submitted by other employees describing why this person should be recognized. Here are the winning nominations submitted for this month's team players:
Katie:
This individual doesn't shy away from a task although when I first met her I perceived her as fairly shy. On many occasions I have seen her swap around her schedule to do assessments, and jump in to take crisis walk-ins. On October 11th this was no different, through the day walking around Project Homeless Connect, this individual stepped in for missing navigators, handled crises, and helped people find their way around the event. When a larger crisis arose she stayed with the individual needing help until LPD arrived nearly an hour and half later, through the whole situation she remained calm and calming. Rarely will you walk into Outpatient and not see a smile on her face, or when you talk to her feel like what your saying is important.
Congratulations Katie on being recognized as Team Player of the Month!
Nicole:
When I first started with CenterPointe, my first job out of food service, I knew how to work with people but was unsure of the atmosphere and the ins and outs of working in a treatment center. This month's Team Player took the time to guide me on what was right and what was wrong and did it in a kind, professional manner. She never got impatient with my questions, and offered the support I needed. Even though she is not a BHT she understood the role very clearly and went above and beyond to offer help. Whenever we need help she is always there without question, makes herself available to aide in anything the clients or staff need. She puts the client's needs above everything else, and even while I am sitting here typing this I am listening to her be patient and loving towards a client while meeting the client's needs, which is what her main priority is. I'm not the only one who thinks she is a true asset to Peer Support, the BHT staff and CenterPointe with her wisdom, care and guidance!
Congratulations Nicole for being recognized as Team Player of the Month!