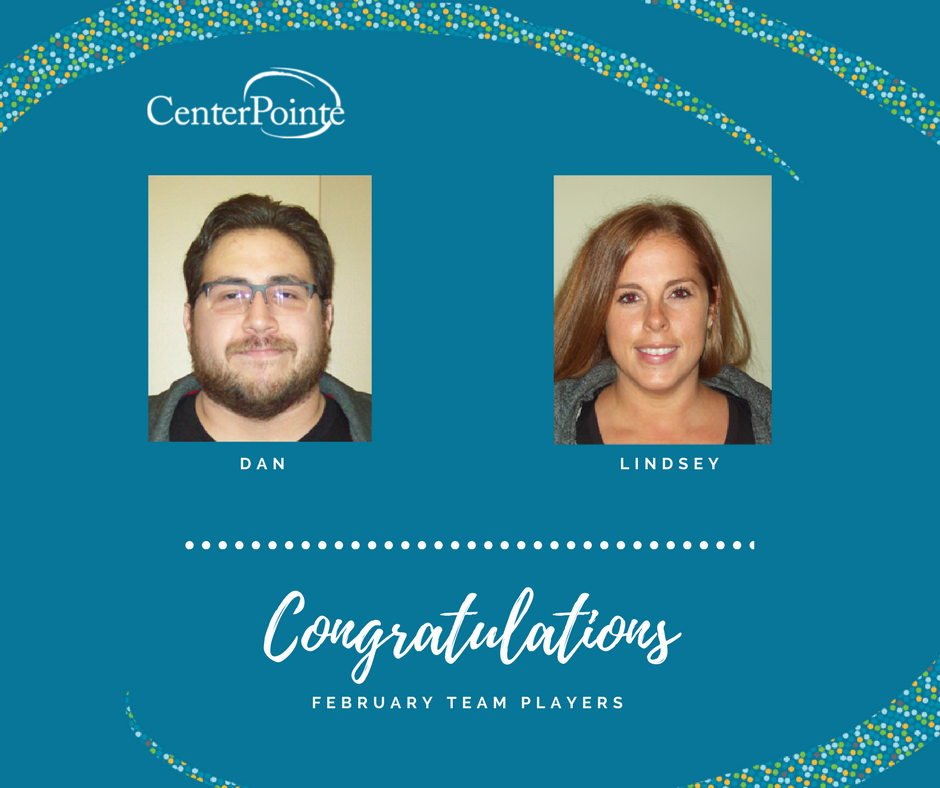 Congratulations to Dan and Lindsey for being recognized as Team Players of the Month!
Every month we like to recognize outstanding employees from our Lincoln and Omaha locations. Nominations are submitted by other employees describing why this person should be recognized. Here are the winning nominations submitted for this month's team players:
Dan:
This month's Team Player started his career in this field 5 years ago and he has been a great asset to the COR unit and to Campus for Hope/CenterPointe. He is a team player at all times, has a positive attitude about his job and helping others. He is a great communicator - no conflict and easy going, very laid back but also very impactful. He is always willing to go out of his way to help staff or participants. He is kind and helpful. He is in his third year of college and he is going to be a probation officer. He has been a vital member of this company since he started with Catholic Charities and he continues to move forward with integrity and genuine concern for the COR unit, as well as, for the entire community of helping others. He is a sincere and hardworking gentleman. He has a tireless attitude and he is willing to go above and beyond to be of maximum service to the CenterPointe mission. He is an excellent example of going to great lengths to perform his job and being a humble person with a wonderful and delightful attitude about life.
Congratulations Dan on being recognized as the February Team Player of the Month!
Lindsey:
This month's team player is someone very special. Not only is she an amazing therapist, she is an amazing co-worker as well. Her door is always open (when she doesn't have a session, of course) and she really wants to know how you are and what is going on in your life. She is always on top of her paperwork, gets her referrals done quickly for clients, always makes sure to include all necessary information and she still finds time in her day to help out where needed. I've seen her cover the front desk and answer phones. I've seen her jump to action during crisis to clear our waiting room and protect our clients. I've seen her lend a hand to others who need help with paperwork. I've also seen the wholesome way she cares for her clients. She really truly cares and wants her clients to succeed but she never lets herself work harder than her clients are willing to work. Even when her days are crammed with back-to-back visits she has a smile on her face and will always respond gracefully when the schedule doesn't happen as planned. She is always willing to do extra. We can call her and ask if she can talk to her client on the phone or manage a walk-in or fit a comp assess in her already full day. And I've never seen her upset about any of that. In short, I aspire to one day be a therapist and person like her. She makes all of us want to be better. CenterPointe, we are lucky to have her on our team. She is so deserving of TPOM.
On my first day at CenterPointe, I will never forget the first words this team member said to me—"I'm so glad you're here!" She has provided me (as well as the rest of our program) excellent support and organization with both treatment and documentation. When we were down a program director for the summer, she really stepped up to the plate and became a leader for us in many ways. She has been an incredible clinician, and in working with her I have learned so much from her. I appreciate her passion for consumers, her uplifting sense of humor, and her clinical wisdom. Her dedication to her clients and other employees help make this a great place to work.
Congratulations Lindsey on being recognized as the February Team Player of the Month!