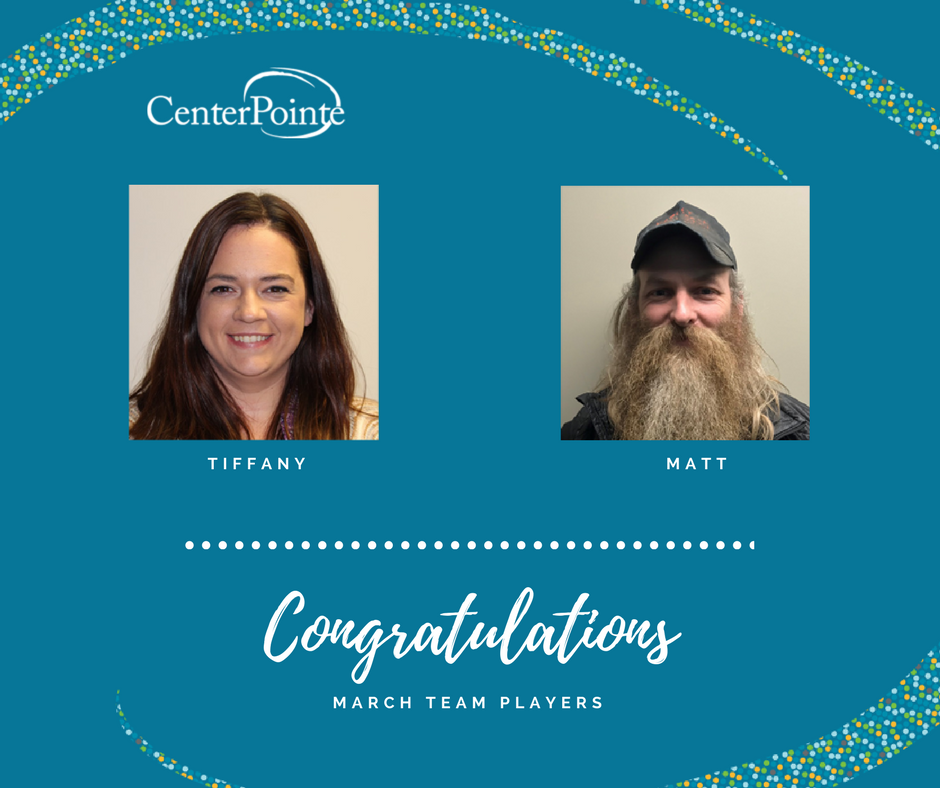 Congratulations to Tiffany and Matt for being recognized as Team Players of the Month!
Every month we like to recognize outstanding employees from our Lincoln and Omaha locations. Nominations are submitted by other employees describing why this person should be recognized. Here are the winning nominations submitted for this month's team players:
Tiffany:
I would like to nominate Tiffany for team player of the month. Tiffany is everything that encompasses a great leader. She has strength, integrity, honesty and most of all she serves those around her in every step she takes. Every day she shows up to work and she gives a 100%. She is constantly looking for new ways to improve the STR and COR program and just recently she has taken the lead to be a COR therapist as well. Tiffany implemented new ways to document huddle notes, status changes and also a discharge notification for our clients. She is always making sure that all bases are covered when it comes to communicating any information that is put out to both staff and our clients.
Tiffany makes sure that she is consistent in being an example when interacting with those around her by using the same skills we teach and expect from our clients. During groups and free time she is known to use real life situations between clients or even staff as a chance to model what effective communication looks like, or what setting a clear boundary might entail . She has even taken over as a BHT when they are short staffed due to BHT meetings, (it is not beneath her to pass out cigarettes to the clients and take them to smoke, if that is what needs to be done). She does what it takes to keep everything running smooth and effectively. Tiffany has gone from BHT's to therapists, asking if they have any ideas on what would make our program better and then following through with putting those ideas to use.
Tiffany is on the CenterPointe Leadership Academy and through that, she has developed a stretch project where she has put in countless hours towards developing a curriculum that teaches our clients the daily life skills they need to be successful after transition. It is a pleasure working with Tiffany every day, not only does she promote positivity, but her spirit is motivating. Working next to Tiffany has made it obvious that her goal is to work as a team, to give our clients at CenterPointe's Campus for Hope the best treatment there is to offer.
I would like to nominate Tiffany for team player of the month. Tiffany goes above and beyond every single day. In both her old role on STR and her new role split between STR and COR, she has shown herself to have a high level of leadership potential, and was even placed onto the Leadership Academy, representing Campus for Hope.
Tiffany has helped to smooth out several processes here at the Campus, especially for the clinicians. Tiffany helped to join STR and COR in the Family Education class, by choosing a curriculum and organizing the class so that it is a state of the art program. She helps run the team meetings whenever the Program Director is not present, and is one of the best communicators in the building. Thanks for all you do Tiffany!
Matt:
This staff member is always willing to hit the streets to outreach individuals who are experiencing homelessness or to help case managers locate someone they have lost contact with. He is extremely helpful when someone needs furniture or items for their apartments. He is always willing to go the extra mile to hook individuals up with whatever they need. He treats the individuals we serve with respect and is able to quickly build rapport. He has a great sense of humor and is always good for a laugh.
He's always looking for new ways to cooperate with other agencies, and benefit our consumers. He naturally thinks and speaks of the people we serve in a "person first" manner. His down time is spent connecting with other staff and problem solving with them to find resources for case managers. He is aware of the importance of the language he uses and to approach people in the most trauma informed way possible.
He's taken the lead with coordinated entry, working on getting funds for outreach, has built essential connections with the community (ie. Bridging the gap between CP and LPD, Help Center, etc.). Goes out of his way to help others regularly. He sings in the halls. And he has neck tattoo. And a beard. Big time pat for a dude named Matt.