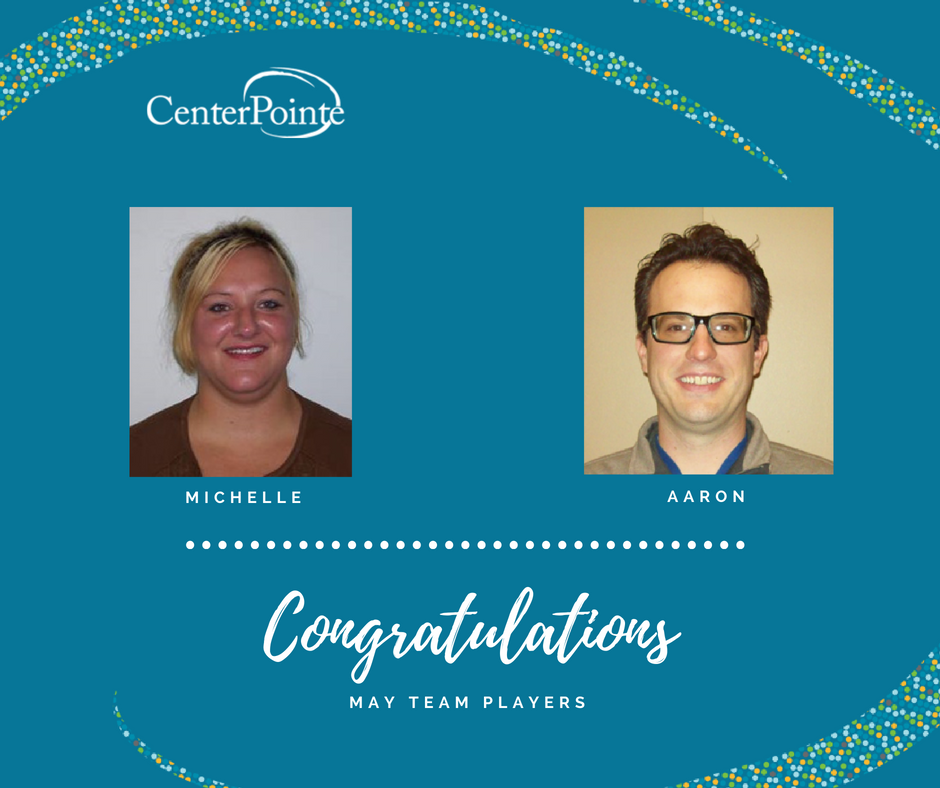 Congratulations to Michelle and Aaron for being recognized as Team Players of the Month!
Every month we like to recognize outstanding employees from our Lincoln and Omaha locations. Nominations are submitted by other employees describing why this person should be recognized. Here are the winning nominations submitted for this month's team players:
Michelle:
This CenterPointe employee is a strong advocate for the clients she serves and for the employees she works with. She is knowledgeable about meeting the needs of her clients and she has a kind and nurturing nature that makes them feel cared for. She has the same attitude and demeanor when interacting with her co-workers. When someone needs to blow off steam or share good news, they might be stopping by her office first. She is part of what makes CenterPointe such a great place to work.
Congratulations, Michelle for being recognized as Team Player of the Month for May.
Aaron:
This month's Team Player is a phenomenal employee that is constantly striving to be better at his job. He brings an incredible sense of humor to the team. He is always willing to take on any new task or challenge. He is a perfect example of a team player, he takes time for co-workers and participant needs. He also worked the unit as the only tech for two days so everyone else could attend the DBT training, and he handled it with grace and tact. The people in service were also amazed by his ability to manage during that time. His consistent positive attitude shows through on a daily basis no matter what challenges he is faced with. He is leader on the unit that many of the techs look to for guidance.
Congratulations Aaron on being recognized as Team Player of the Month for May.