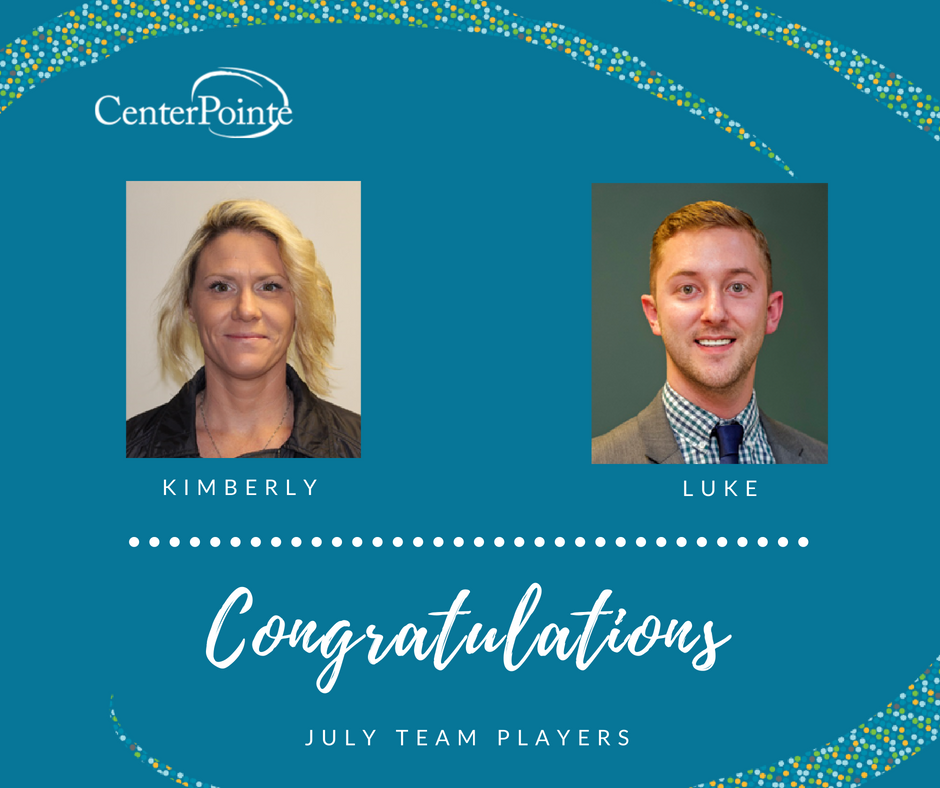 Congratulations to Luke and Kimberly for being recognized as Team Players of the Month!
Every month we like to recognize outstanding employees from our Lincoln and Omaha locations. Nominations are submitted by other employees describing why this person should be recognized. Here are the winning nominations submitted for this month's team players:
Luke:
This month's Team Player is always working for the best interest of the agency, individual staff members, and the larger behavioral health sector. They handle hundreds of details that impact the daily lives of our staff. They help supervisors gain skills to be better leaders. They manage multiple systems that touch every staff member and program at CenterPointe. This month's Team Player works hard but maintains a positive attitude that makes them a joy to work with. In addition, they are active in community leadership through the Lincoln Chamber of Commerce's Young Professionals Group, and in managing grants with BHECN. They have recently earned certification in their field. I'm so proud to nominate Luke, SHRM-CP to be this month's Team Player.
Kimberly:
I would like to nominate Kimberly for team player of the month. She is always taking on extra projects to help with the Unit's functionality, always brings high energy and a positive demeanor to work. She is a shining example of how a BHT should conduct herself and displays a strong work ethic that proves valuable to our unit.