February Employee Appreciation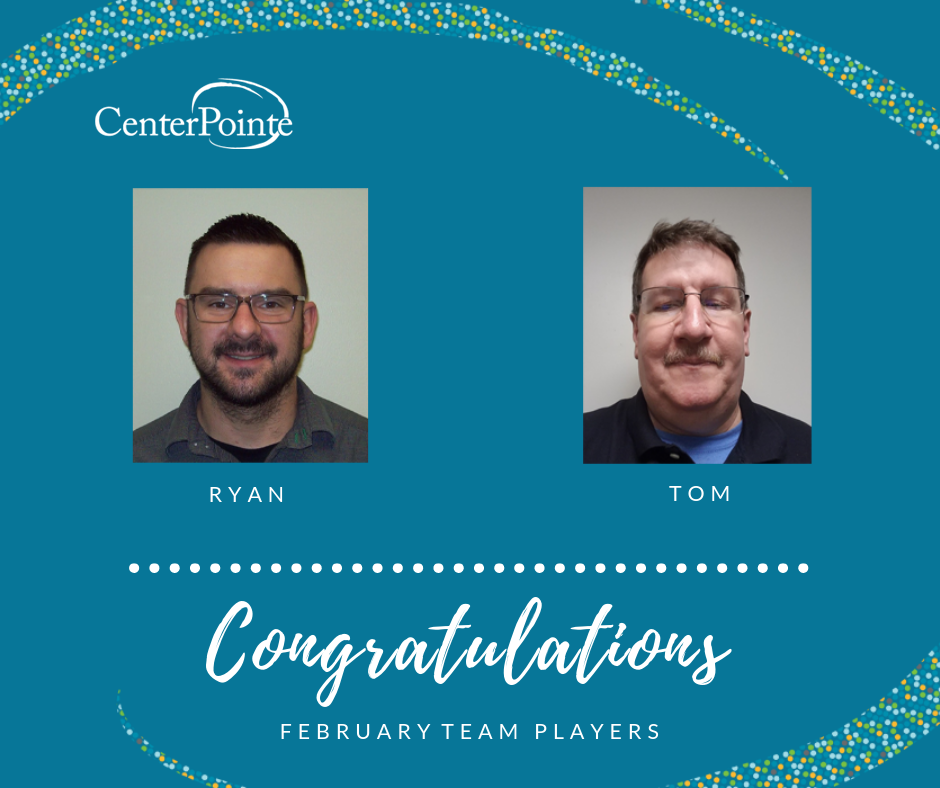 Congratulations to Ryan and Tom for being recognized as Team Players of the Month!
Every month we like to recognize outstanding employees from our Lincoln and Omaha locations. Nominations are submitted by other employees describing why this person should be recognized. Here are the winning nominations submitted for this month's team players:
Ryan:
Over the last two years since starting at CenterPointe, this employee has demonstrated an openness to new ideas, a dedication to making things happen, and incredible leadership skills.  Since transitioning to a new position in the last few months, this employee has been the talk of the town!  At a Waitlist meeting, Joe Pastuszak at Region V stated to the whole group that this employee "is a rockstar."  And we agree! 
The employee's program has seen an increase in average length of stay, a tremendous decrease in walk-outs, less denials, and an overall positive shift in approach.  This employee is always willing to give people a chance, even taking the time to meet with new ever consumer who may be considered a "high-risk to walk out" on the day that they arrive.  In recognition of his continued commitment to CenterPointe's mission, as well as the recent impact he's had in his new role, we recognize Ryan as the Team Player of the Month!
Tom:
The employee we recognize this month really exemplifies the spirit of team work and a willingness to go beyond a job description. He has been a truly tireless overnight worker, willing to pick up extra shifts with little to no notice during the overnight, but also during the day and evening as well. Further, he is one of the first to be out doing extra rounds to ensure the safety of the residents and staff here at the campus, not only by keeping a watchful eye for any possible intruders, but also taking it upon himself to shovel the sidewalks overnight so that staff can walk into the campus safely in the morning.
He has also taken on the added responsibility of an internship over the past few months and has shown some exceptional depth with regards to his knowledge of recovery, as well as being a solid voice of reason within the group process. Finally, I would like to recognize the positive attitude that this individual demonstrates with everyone he comes into contact with, using his own singular sense of humor to help individuals rethink their own lives or even deescalate potentially dangerous situations. For all of these reasons we recognize Tom as our Team Player of the month!