What treatment is provided through CenterPointe's CCBHC?
Covid testing 
Integrated primary care, mental health, and substance use disorder care 
Screening for HIV and Hepatitis 
24/7 Crisis Intervention Services 
Nobody turned away due to inability to pay 
Same-day access to care 
Evidence-based practices, including medication-assisted treatment 
Collaborative care with other agencies 
Quality measures that guide clinical care decisions 
Since many of these services are already provided through CenterPointe, here are specific changes that will take place:
Service of more individuals, especially children, adolescents, and families  
Expansion of our team by 17 new staff members
Organizational re-structuring to accommodate the expansion 
Expansion of our operational hours to include some nights and weekend hours
Improvement of our internal and external processes for collaborating and coordinating care
Greater focus on data collection for make data-informed decisions
Primary Care Services
Family primary care
Women's health care 

PAP test
Breast exam
Mammogram referral

Management of chronic conditions (high blood pressure, high cholesterol, diabetes)
Tobacco cessation counseling (for those trying to quit)
Adult immunizations
Allergy management
Sick visits (cough, cold, runny nose, sore throat, earache, pink eye, urinary tract infection)
Influenza testing
Injuries (minor cuts, scrapes, sprains, strains)
STD screening
HIV and Hepatitis screening
Care coordination between physical health and behavioral health care providers
Electronic health records
Medication-assisted treatment services
Pediatric (child/adolescent) primary care
Physical exams (routine, school, sports physicals)
With any questions about our services, please call 402.475.5161 or stop into our offices in the core of downtown at 1000 S 13th St. Lincoln, NE 68508.
---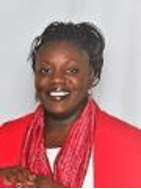 Dr. Teresa Lewis-Hunt, DNP, APRN, FNP-C, (aka Buffy) is a native of Defiance, Ohio. She moved to Lincoln in October of 1992. She completed both Masters of Science degree in Nursing with specialization as a Family Nurse Practitioner and a Doctor of Nursing Practice from South University, located in Savannah, Georgia.
Teresa is married with five children and three grandchildren. When time permits, she loves spending time with family, reading literature of any kind, and listening to gospel music. Teresa enjoys working with individuals with diverse backgrounds and learning about new cultures, which is why she chooses to practice at CenterPointe. Teresa brings her experience working in an emergency room and intensive care unit setting along with her passion for technology to CenterPointe. Her intuitive sense of taking care of people's needs makes her a great asset to the team. Teresa is compassionate about preventive medicine with a holistic care approach. 
You can schedule an appointment to see her at CenterPointe Outpatient Clinic, located at 1000 South 13th Street, in Lincoln. Call 402-475-5161 to schedule an appointment.
Her favorite poem:

Infinite Words of Wisdom: Poem: "One Minute" …………. I only have just one minute; Only sixty seconds in it; Forced upon Me; Cannot refuse it; Didn't seek it; Didn't choose it; I will suffer if I lose it; Yes, one tiny little minute; Yet ETERNITY is in it.     (Author Unknown)

Most challenging Career Obstacle: 

Not valuing the "gift" of time at an incredibly young age.