Outpatient Services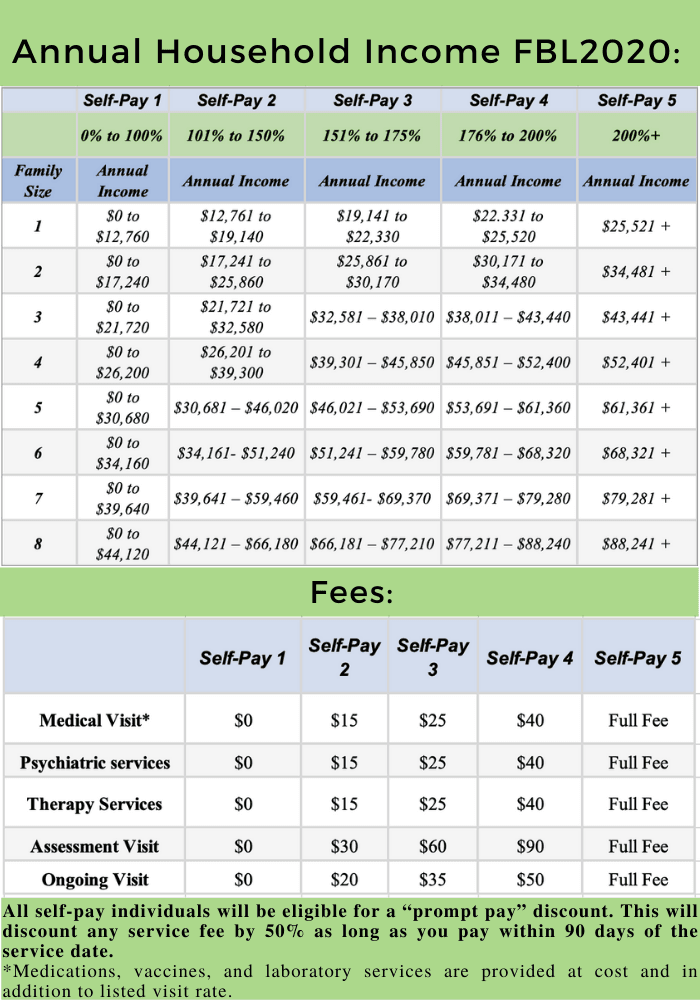 No-Wait Outpatient Services
When you are ready to get help, Outpatient services are here for you on a walk-in basis Monday through Friday. No appointment or referral is required!
M/T/W/F: 8AM - 5PM
TH: 8AM - 4PM
CenterPointe offers a sliding fee for income eligible participants. We accept Medicaid, Medicare, and private insurance.  We do not deny services to individuals based solely on inability to pay
Access to services is a priority at CenterPointe. For individuals paying directly for services, we have a Sliding Fee Schedule that includes five (5) categories of Self-Pay rates based on your family size and income. No individual will be turned away from services for inability to pay. For further information or questions about the Self-Pay rates, please contact the admission specialist at Outpatient Services.
How to find your fee:
Find your annual household income in the first table below on the row with your household size. (Keep in mind that when we say "household", we mean anyone that you would file taxes with, even if you don't typically file taxes. This could include a spouse, parent, child, or any dependent.) This identifies your Self-Pay category.
Then, find your fees in the second chart based on your Self-Pay category.
Lincoln: 
p: 402.475.5161
f: 402.799.1055
Our Integrated Outpatient Clinic is part of our person-centered health care. We offer comprehensive physical and behavioral health care for adults, children, and families. With any questions about our services, please call 402.475.5161.
Physical Health Services include:
Adult primary care
Women's health care 

PAP test
Breast exam
Mammogram referral

Management of chronic conditions (high blood pressure, high cholesterol, diabetes)
Tobacco cessation counseling (for those trying to quit)
Adult immunizations
Allergy management
Sick visits (cough, cold, runny nose, sore throat, earache, pink eye, urinary tract infection)
Influenza testing
Injuries (minor cuts, scrapes, sprains, strains)
STD screening
HIV and Hepatitis screening
Care coordination between physical health and behavioral health care providers
Electronic health records
Medication-assisted treatment services
Pediatric (child/adolescent) primary care
Physical exams (routine, school, sports physicals)
With any questions about our services, please call 402.475.5161 or stop into our offices in the core of downtown at 1000 S 13th St. Lincoln, NE 68508.
Therapy services may include:
Individual, group, and family counseling
Psychiatric services
Medication management
CenterPointe uses an inclusive, holistic approach. Many clinicians are dually-licensed.
New Participant Forms
New participants can save time during their first visit by completing the participant intake form  AND participant policies form prior to the visit. The completed forms can be sent to outpatadmissions@centerpointe.org or you can bring the completed forms with you when you come in.